$14.99
AUD
Category: Children's Graphic Novels
Wick has always lived in the dark and dreadful Harklights Match Factory and Orphanage, working tirelessly for greedy Old Ma Bogey. He only dreams of escaping, until one day a bird drops something impossible and magical at his feet - a tiny baby in an acorn cradle...As midnight chimes, Wick is visited by the Hobs, miniature protectors of the forest. Grateful for the kindness shown to their stolen child, they offer Wick the chance of a lifetime - escape from Harklights and begin a new life with them in the wild...Winner of the Joan Aiken Future Classics Prize, Harklights is a magical story celebrating family, friendship and the natural world, filled with a message of hope for our times ...Show more
$12.99
AUD
Category: Children's Graphic Novels | Series: Bumble and Snug
Best friends Bumble and Snug are Bugbops - little monsters filled with BIG feelings! Join them on imaginative comic adventures while they encounter pirates, unicorns, ghosts and lots of other magical creatures, learning about the world outside and inside along the way. Bumble and Snug are going on a bi g adventure to ... have a picnic! But when they accidentally get lost, they're both cross - is their adventure ruined? Working together to find their way home, Bumble and Snug come across a pirate treasure horde. But taking treasure that isn't yours is a good way to get into trouble, and sure enough some VERY angry pirates aren't far behind. Bumble and Snug are certain they can replace the treasure, and fix things to make everybody happy. But there's another monstrous obstacle in store - and this one has TENTACLES. Bumble and Snug and the Angry Pirates is a story about being cross and how to listen, friendship and sandcastles, and one GIANT octopus! Perfect for readers just starting to enjoy stories independently, and for kids to share with their grown-ups. For fans of Narwhal and Jelly and Mr Men. ...Show more
$14.99
AUD
Category: Children's Graphic Novels | Series: Pizazz Ser.
The third book in the new series for 7+ readers from the amazingly talented illustrator and author Sophy Henn! Brimming with Sophy's hilarious signature illustrations, this is the perfect read for fans of Dork Diaries, Tom Gates, Amelia Fang, Wimpy Kid and Dog Man. "A SPECTACULAR superhero sto ry that fizzes with fun on every page!" - Liz Pichon, author of the bestselling TOM GATES series. HELLO! My name is PIZAZZ and I'm a superhero . . . You probably think that's really AWESOME, and while it can be, it's also REEEEEEEAAALLLLY annoying. Even though I'm saving the world ALL THE TIME, there are still LOADS of bad guys about. Like super baddie PERFECTO! She's younger than me, and just . . . well, PERFECT! But I have a plan. Maybe I just need to be perfect too - even moreperfect than Perfecto. Easy-peasy, right?! Hilariously narrated by reluctant superhero Pizazz, and brimming with Sophy's distinctive illustrations and comic-book strips, this is the third book in the laugh-out-loud PIZAZZ series. PRAISE for PIZAZZ: "Blocky comic-style panels, a fire-farting granddad and a conservationist message make for accessible, quirky reading" - The Guardian, Children's Book of the Month "Sophy Henn's funny new series […] a witty and original reminder that superheroes are human too" - The Sunday Times, Children's Book of the Week "Sophy Henn's lively, energetic story should be a hit with anyone who finds it hard to fit in" - Financial Times "Full-page illustrations, comic-strip sequences, quirky typography and dramatic chapter openers ensure this book will appeal to more reluctant readers" - The i "Perfect for fans of her previous series Bad Nana, with the same level of illustration and zany text throughout" - Booktrust ...Show more
$15.99
AUD
Category: Children's Graphic Novels | Series: Captain Underpants
The Turbo Toilet 2000 returns in the eleventh book in this #1 New York Times bestselling series by Dav Pilkey, the author and illustrator of Dog Man Just when you thought it was safe to flush, the Turbo Toilet 2000 strikes back The carnivorous commode known for devouring everything in its path has built up a real appetite... for REVENGE Luckily, the fate of humanity is once again in the hands of George and Harold and their annoying nemesis Melvin Sneedly. Will Wedgie Power prevail? Or will the amazing Captain Underpants be flushed away forever?   ...Show more
$15.99
AUD
Category: Children's Graphic Novels
A MYSTERIOUS DOORWAY! (Sure, it's in a restaurant that serves poop, but that doesn't make it any less mysterious. OK?) Behold! What lies beyond?! An evil centipede? An alternate universe? A few decent explanations? VRRRING! NING! NING! NING! Hey, was that a CHAINSAW?! Let's see if you can read and run a t the same time... GO! It's the BAD GUYS EPISODE 13.   ...Show more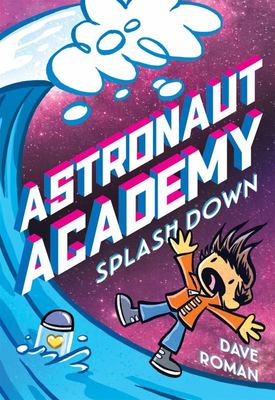 $24.99
AUD
Category: Children's Graphic Novels | Series: Astronaut Academy Ser.
Heroes like Hakata Soy don't take vacation! It's summer vacation for the students of Astronaut Academy, and Maribelle Mellonbelly is throwing the best party ever on Beach Planet? Yes! But tensions heat up fast when Hakata Soy's arch rival, Rick Raven, arrives. And soon the whole planet is heating up--wi th a giant volcano threatening to blow its top! Unless they can work together to save the planet, the students of Astronaut Academy will be toast. But can they put aside their differences in time to turn the tides?Splashdown is at long last the highly-anticipated new volume in the enduring and beloved Astronaut Academy series--for which we are reissuing volumes 1 and 2 in stunning full color. ...Show more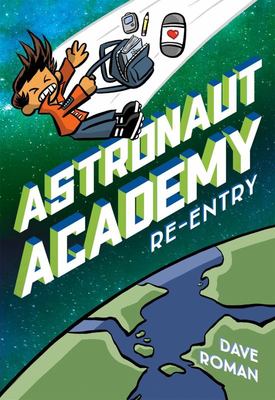 $24.99
AUD
Category: Children's Graphic Novels | Series: Astronaut Academy Ser.
The wild and wacky world of Astronaut Academy is back It's spring semester at this futuristic institution of learning, and Hakata Soy has lost his heart. Literally. And he's not the only one . . . something is stalking the halls of Astronaut Academy, impersonating the crush-objects of students and maki ng off with their extra hearts With a sprawling cast of unforgettable characters, Astronaut Academy Re-Entry is a high-octane, hilarious follow-up to Dave Roman's quirky Astronaut Academy: Zero Gravity. ...Show more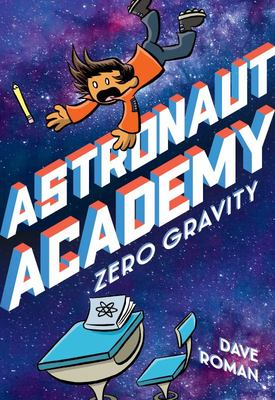 $24.99
AUD
Category: Children's Graphic Novels | Series: Astronaut Academy Ser.
Hakata Soy's past won't stay in the past! This former space hero is doing his best to keep his head down at Astronaut Academy. Things aren't going so great, though. The most popular girl in school has it in for him. His best friend won't return his calls. And his new roommate is a complete jock who only cares about Fireball. Hakata just wants to make a fresh start. But how will he find time to study Anti-Gravity Gymnastics and Tactical Randomness when he's got a robot doppelganger on its way to kill him?Beautifully updated with fresh color, this new edition of this engaging and delightful Astronaut Academy series will have readers dreaming of space adventures, friendship, and Dinosaur driving lessons. ...Show more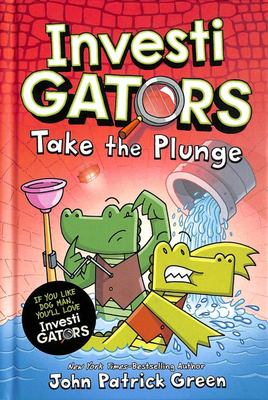 $19.99
AUD
Category: Children's Graphic Novels | Series: Investigators! Ser.
Sewer-loving secret agents Mango and Brash are plunged into a hilarious new mystery and a BIG MESS in John Patrick Green's full-colour, laugh-out-loud graphic novel InvestiGators: Take the Plunge, perfect for emerging readers and fans of Dav Pilkey. Mango and Brash are the InvestiGators: sewer-loving a gents of S.U.I.T. and scourge of supervillains everywhere! In their next big adventure, S.U.I.T. headquarters is under attack, and Mango and Brash are going undercover and underground disguised as city sewer workers to unclog a sticky situation. But when their search for the criminal Crackerdile backfires, the toilets they travel through get blocked and the InvestiGators take the blame for it! Can Mango and Brash restore their good name and put the real culprit behind bars before the whole city is in deep water? ...Show more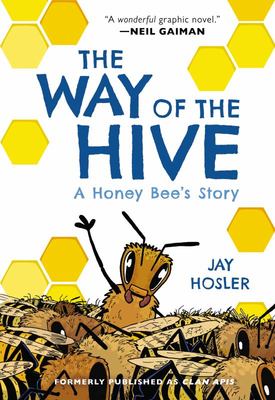 $24.99
AUD
Category: Children's Graphic Novels
"A wonderful graphic novel."--Neil Gaiman Experience the life of a honeybee in this coming-of-age story about a bee named Nyuki, in this full-color graphic novel by Jay Hosler, perfect for curious kids who are fans of the Science Comics series. Nyuki is a brand-new honeybee--and she has a lot of questio ns. Like When does a bee go through metamorphosis? Why does a queen bee sometimes leave her hive? And where does all this honey come from, anyway?! But Nyuki's biggest question is, "What is this inner voice I hear, and why does it tell me to go forth to adventure? Follow Nyuki on a lifelong journey as she annoys her sisters, avoids predators, and learns to trust her inner voice as she masters the way of the hive. And if you still have questions at the end, the back of the book uncovers even more mysteries about the lives of these incredible insects! ...Show more
$14.99
AUD
Category: Children's Graphic Novels
Zeek and Arnie are back in another hilarious action-packed adventure featuring pirates, pancakes and the edge of the world . . .When Zeek and Arnie hear about a heap of TREASURE at the edge of the world, they decide to investigate. Zeek wants to use the treasure to fund his quest for WORLD DOMINATION! But how will they get there? After using their inventing skills to build a ship, the Enchilada, they sail off with Eleanor. But there's trouble brewing on the horizon . . . What will Zeek and Arnie find at the edge of the world? Will it be TREASURE or TROUBLE? And . . . are they really alone? ...Show more