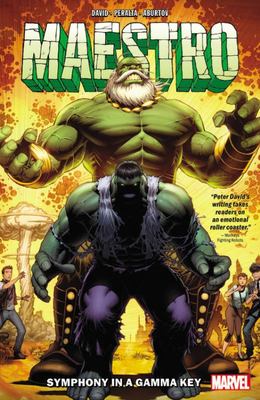 Maestro: Symphony in a Gamma Key
by Peter David; Germán Peralta (Illustrator); Dale Keown (Illustrator)
$32.99
AUD
Category: Graphic Novels
The story you've waited decades for: the origin of the Maestro! Almost 30 years after the landmark story FUTURE IMPERFECT, legendary INCREDIBLE HULK scribe Peter David returns to the far-future version of the Hulk - the embittered, tyrannical master of what remains of the world! With astounding art from HULK veteran Dale Keown and up-and-coming talent Germ¤n Peralta, MAESTRO answers questions that have haunted Hulk fans for years - and raises some new ones! How did the world fall and the Maestro rise? What happened to the world's heroes in between? And where is the Hulk we know and love? Plus: Just how did Rick Jones gather all the weapons and collectibles of his super-heroic generation? As a new rebellion begins, the Maestro's world will never be the same... and neither will the incredible Hulk! Collecting: Maestro (2020) 1-5 ...Show more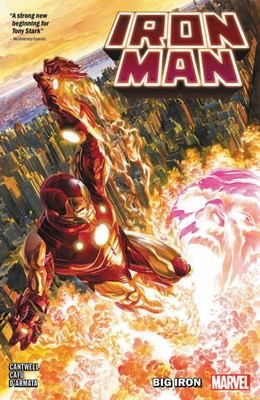 Iron Man Vol. 1 TPB
by Christopher Cantwell; Cafu Cafu (Illustrator)
$32.99
AUD
Category: Graphic Novels
Tony Stark is looking to restart his engine. He's going back to basics, putting away his high-tech toys and high-profile image so he can get his hands dirty again. It's time to put on some old-fashioned metal - and fly! But can Tony really lay that Stark-sized ego down? Life just isn't that simple, some thing that old friends and frustrating foes are quick to point out. So Iron Man takes the fight back to basics, and back to the streets - facing down old-school villains like Arcade and the Absorbing Man. But what's really going on in Tony Stark's head? As old friends like Hellcat try to help him find peace of mind, lurking on the horizon is a threat that Tony - and the entire cosmos - hasn't seen in years. Prepare for the new saga of Korvac! Collecting: Iron Man (2020) 1-5 ...Show more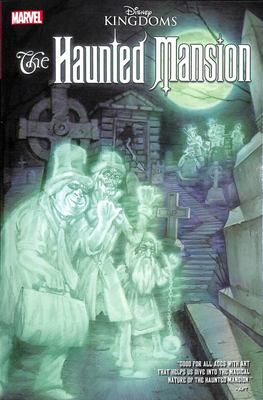 $32.99
AUD
Category: Graphic Novels
Creepy tales inspired by a pair of terrifying Disney attractions - one a fan-favourite, and one that has entered into legend! Welcome, foolish mortals, to the Haunted Mansion! Poor Danny is trapped inside - but is there anyone he can trust to help him escape? Or is he destined to become the 1000th perma nent inhabitant of the foreboding abode? Find out... along with Madame Leota, the Hatbox Ghost, Constance the Bride, the Hitchhiking Ghosts and all your favourites! Plus, an all-new adventure inspired by the Museum of the Weird - designed by visionary Rolly Crump, but never built! When their parents are kidnapped, teens Maxwell and Melody Keep are thrust into a thrilling race through the world's most dangerous museum, in a bid to save their family - and the world! Collecting: Disney Kingdoms: Seekers Of The Weird (2014) 1-5, Haunted Mansion (2016) 1-5 ...Show more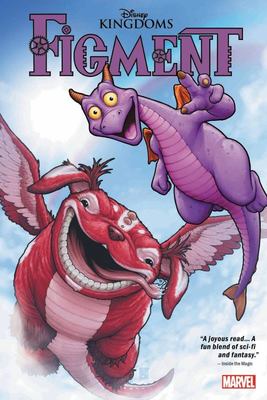 Disney Kingdoms: Figment Gn-TPB
by Jim Zub; Filipe Andrade (Illustrator); Ramón Bachs (Illustrator)
$32.99
AUD
Category: Graphic Novels
One of Disney's most popular characters - Figment, the ever-curious star of Epcot's mind-bending attraction Journey into Imagination - stars in all-new adventures! Dive into a steampunk fantasy story revealing the origin of the astonishing inventor known as Dreamfinder, and learn how one little spark of inspiration created the purple dragon called Figment! Our daring duo explore the realms of imagination, finding friends and foes alike - but back on Earth, a clockwork army is assembling under the command of the frightening force known only as the Singular! And when Dreamfinder and Figment find themselves in a time and place not their own, mysteries unfold - and old friends return! Can the imaginative adventurers put their heads together to help stop the world from falling into darkness? Collecting: Figment (2014) 1-5, Figment 2 (2015) 1-5 ...Show more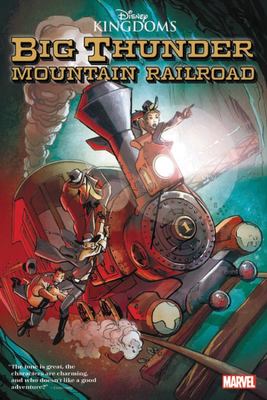 Disney Kingdoms: Big Thunder Mountain Railroad/Tiki Room Gn-TPB
by Dennis "HOPELESS" Hallum; Jon Adams; Tigh Walker (Illustrator); Felix Ruiz (Illustrator); Guillermo Mogorrón (Illustrator); Horacio Domingues (Illustrator)
$32.99
AUD
Category: Graphic Novels
Two of the most beloved attractions in all the Disney Kingdoms provide the settings for a pair of magical adventures - filled with action, adventure, romance, humor and fun Millions of fans have climbed aboard the wildest ride in the wilderness - now discover the never-before-told saga of how Barnabas T. Bullion's dangerous gold mine of Big Thunder Mountain Railroad became the haunted legend it is today Then, welcome to the Enchanted Tiki Room, a place of legend...fantasy...and mystery On this isolated island populated by talking (and singing) birds and plants and ancient Tiki gods, almost anything can happen - and it will But when a plane arrives with new visitors, it sets off a chain of events that threatens the very future of the Tiki Room Say it ain't so Big Thunder Mountain Railroad (2015) 1-5, Enchanted Tiki Room (2016) 1-5 ...Show more
$22.99
AUD
Category: Graphic Novels | Series: Heartstopper
Boy meets boy. Boys become friends. Boys fall in love. An LGBTQ+ graphic novel about life, love, and everything that happens in between: this is the third volume of HEARTSTOPPER, for fans of The Art of Being Normal, Holly Bourne and Love, Simon. Charlie didn't think Nick could ever like him back, but no w they're officially boyfriends. Nick's even found the courage to come out to his mum. But coming out isn't just something that happens once - there's Nick's older brother, and a school trip to Paris, not to mention all the other friends and family - and life can be hard, even with someone who loves you by your side. As their feelings for each other get more serious, Charlie and Nick will need each other more than ever before. Heartstopper is about love, friendship, loyalty and mental illness. It encompasses all the small stories of Nick and Charlie's lives that together make up something larger, which speaks to all of us. 'The queer graphic novel we wished we had at high school.' Gay Times This is the third volume of Heartstopper, with more to come. ...Show more
$22.99
AUD
Category: Graphic Novels | Series: Heartstopper Ser.
Boy meets boy. Boys become friends. Boys fall in love. An LGBTQ+ graphic novel about life, love, and everything that happens in between - for fans of The Art of Being Normal, Holly Bourne and Love, Simon. 'Absolutely delightful. Sweet, romantic, kind. Beautifully paced. I loved this book.' RAINBOW ROWE LL, author of Carry On Charlie and Nick are at the same school, but they've never met ... until one day when they're made to sit together. They quickly become friends, and soon Charlie is falling hard for Nick, even though he doesn't think he has a chance. But love works in surprising ways, and Nick is more interested in Charlie than either of them realised. Heartstopper is about love, friendship, loyalty and mental illness. It encompasses all the small stories of Nick and Charlie's lives that together make up something larger, which speaks to all of us. 'The queer graphic novel we wished we had at high school.' Gay Times This is the first volume of Heartstopper, which has now been optioned for television by See-Saw Films. ...Show more
$14.99
AUD
Category: Graphic Novels | Series: Chainsaw Man Ser.
Broke young man + chainsaw dog demon = Chainsaw Man   Denji was a small-time devil hunter just trying to survive a harsh world. After being killed on a job, Denji is revived by his pet devil-dog Pochita and becomes something new and dangerous--Chainsaw Man   The bloody battle heats up between Chains aw and Sword Denji is going to have to pull out all the tricks against this crafty opponent. And when the dust settles, how will Special Division 4 move on from their losses? ...Show more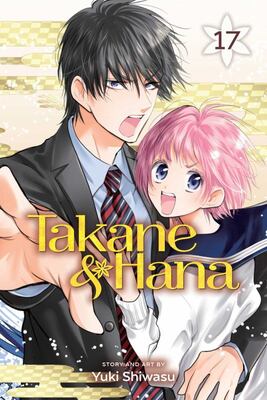 $14.99
AUD
Category: Graphic Novels | Series: Takane and Hana Ser.
A strong-willed high school girl and a hot young scion of a business empire can't help trying to outwit each other every chance they get... But could these opposites be conning themselves out of the perfect match? After her older sister refuses to go to an arranged marriage meeting with Takane Saibara, the heir to a vast business fortune, high schooler Hana Nonomura agrees to be her stand-in to save face for the family. But when these two utter opposites pair up, get ready for some sparks to fly Takane accompanies the Nonomura family to Kyushu, where Hana's grandparents live, so that he can celebrate the new year with them and get to know them better. But when Hana's grandfather becomes enraged with him, what will Takane have to do to get his engagement to Hana out of jeopardy? ...Show more
$14.99
AUD
Category: Graphic Novels | Series: One-Punch Man
Life gets pretty boring when you can beat the snot out of any villain with just one punch.   Nothing about Saitama passes the eyeball test when it comes to superheroes, from his lifeless expression to his bald head to his unimpressive physique. However, this average-looking guy has a not-so-average prob lem--he just can't seem to find an opponent strong enough to take on   Child Emperor uses his trump card, the robotic Brave Giant, to fight against the reincarnated Phoenix Man. However, his enemy easily counters this last-ditch attempt, brushing it off as a mere toy. When Phoenix Man then evolves into an even stronger monster, Child Emperor's conviction is shaken. Does this spell the end for the clever child hero? ...Show more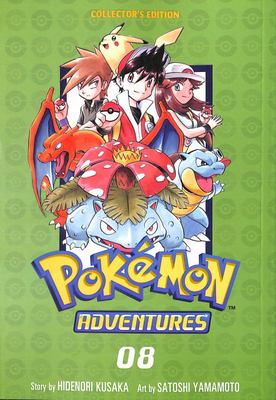 $26.99
AUD
Category: Graphic Novels | Series: Pokémon Adventures Collector's Edition Ser.
All your favorite Pok mon game characters jump out of the screen into the pages of this action-packed manga   A stylish omnibus edition of the best-selling Pok mon Adventures manga, collecting all the original volumes of the series you know and love.   The finale of the Ruby & Sapphire arc cresc endos with a battle between Legendary Pok mon Kyogre and Groudon And, in the new FireRed & LeafGreen arc, Green's long-lost parents have been sucked into a vortex created by a mysterious Pok mon Red and Blue want to help, but first they must improve their battle skills.   Collects the original Pok mon Adventures volumes 22, 23 & 24 ...Show more
$14.99
AUD
Category: Graphic Novels | Series: Jujutsu Kaisen Ser.
Yuji Itadori is resolved to save the world from cursed demons, but he soon learns that the best way to do it is to slowly lose his humanity and become one himself! In a world where cursed spirits feed on unsuspecting humans, fragments of the legendary and feared demon Ryomen Sukuna were lost and scatte red about. Should any demon consume Sukuna's body parts, the power they gain could destroy the world as we know it. Fortunately, there exists a mysterious school of Jujutsu Sorcerers who exist to protect the precarious existence of the living from the supernatural! In order to regain use of his crippled body, Kokichi Muta, otherwise known as Mechamaru, has been acting as an informant for the cursed spirits. He's prepared for the betrayal when he's thrust into a battle to the death against Mahito, but is knowing his enemy enough against a cursed spirit whose powers keep growing exponentially? ...Show more