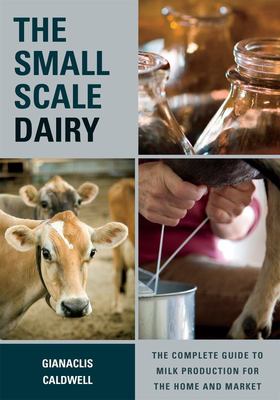 $59.99
AUD
Category: Rural
The Small-Scale Dairy includes everything you need to know in order to successfully produce nourishing, healthy, farm-fresh milk. Whether for home use, direct sale to the consumer, or sale to an artisanal cheesemaker, high-quality raw milk is a delicate, desirable product. Successful and sustainable pro duction requires the producer to consider and tackle many details, ranging from animal care to microbiology to good hygienic practices and, for those with commercial aspirations, business plans, market savvy, and knowledge of the regulations. Applicable to keepers of cows, goats, or sheep, The Small-Scale Dairy offers a holistic approach that explores the relationships between careful, conscientious management and the production of safe, healthy, and delicious milk. A historical overview offers readers a balanced perspective on the current regulatory environment in which raw milk lovers find themselves. Included are options for designing a well-functioning small dairy, choosing equipment, and understanding myriad processes such as the use of low-temperature pasteurization where raw milk sales are prohibited. Whether you have a one-cow home dairy, a fifty-goat operation, or are simply a curious consumer, The Small-Scale Dairy is an accessible and invaluable resource for achieving your goals." ...Show more
$41.95
AUD
Category: Rural
The single best and most comprehensive guide for prospective, new and experienced hobbyist beekeepers Beekeeping For Dummies, 5th Edition, is one of the most popular titles in the For Dummies series available today. Including the latest information regarding every aspect of backyard beekeeping and hone y production, this book describes how to get started, how to care for and safely handle bees, and how to maintain healthy and productive colonies. This book is loaded with up-to-date, practical examples and helpful illustrations of proven techniques and strategies for both new and seasoned hobbyist beekeepers. Some of the updates for this brand-new edition include: New information regarding the critical role that nutrition plays in the health and productivity of your bees News about the latest beekeeping products, medications, and all-natural remedies Information regarding dozens of helpful beekeeping resources Redeemable coupons from beekeeping suppliers that save the reader money Beekeeping For Dummies embodies the straightforward and simple approach made famous by the For Dummies series. Each and every reader will benefit from its accessible and approachable take on beekeeping. ...Show more
$35.00
AUD
Category: Rural
This book describes native bees generally and provides a complete guide to keeping Australian native stingless bees. It is richly illustrated with over 500 photos, drawings and charts to increase accessibility and aid learning. It is written by an expert who has spent his lifetime intimately engaged wit h these unique creatures. Keeping native stingless bees is a hot topic in Australia for commercial, environmental and recreational reasons. You can do something about the decline of pollinators by conserving native bees. Whether you keep a hive or two in your suburban garden, or want to use multiple hives on a commercial farm, this friendly guide has you covered. Bee biology, behaviour, nesting, social life and foraging; How to build your own native bee hive; How to transfer a bee colony to a hive box and propagate hives; All about sugarbag honey, including how to extract it from hives; Managing your hive; Identifying and dealing with pests; Using stingless bees for pollination - from small gardens to commercial crops; A complete list of Australia's stingless bee species, how to identify them, their characteristics, where they occur, and recommended hives; A readable summary of the latest research on native bees. ...Show more
$59.99
AUD
Category: Rural
Attitudes to GM crops continue to generate tension, even though they have been grown commercially for over 20 years. Negative sentiment towards their development limits their adoption in Western countries, despite there being no evidence of harm to human health. These unfounded concerns about geneticall y modified crops have also inhibited uptake in many countries throughout Africa and Asia, having a major impact on agricultural productivity and preventing the widespread cultivation of potentially life-saving crops. GM Crops and the Global Divide traces the historical importance that European attitudes to past colonial influences, aid, trade and educational involvement have had on African leaders and their people. The detrimental impact that these attitudes have on agricultural productivity and food security continues to be of growing importance, especially in light of climate change, drought and the potential rise in sea levels - the effects of which could be mitigated by the cultivation of GM and gene-edited crops. Following on from her previous books Genes for Africa, GM Crops: The Impact and the Potential, and Food for Africa: The Life and Work of a Scientist in GM Crops, Jennifer Thomson unravels the reasons behind these negative attitudes towards GM crop production. By addressing the detrimental effects that anti-GM opinions have on nutrition security in developing countries and providing a clear account of the science to counter these attitudes, she hopes to highlight and ultimately bridge this global divide. ...Show more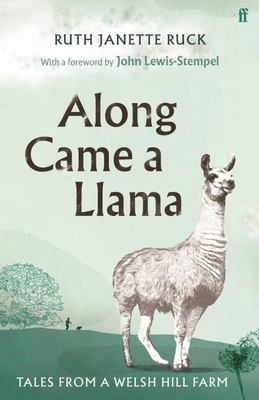 $22.99
AUD
Category: Rural
My Family and Other Animals meets The Secret Life of Cows: this rediscovered gem of a memoir tells the charming tale of how a baby llama transformed a Welsh farming family forever (with a foreword by John Lewis-Stempel) Things llamas like: Snaffling cherry brandy, Easter eggs, and the Radio Times. Flutt ering movie star eyelashes at surprised visitors. Curling up in 'tea-cosy' position by the fire. Orbiting, helicoptering, and oompahing. Humming along to classical music. Locking victims in the lavatory. Things llamas dislike: Having toenails trimmed by a visiting circus. Being adopted mother to an orphaned lamb. Invitations to star on Blue Peter. Accidentally swimming. Snowdonia's rainfall. The dark. Ruth Ruck's family live on a Welsh mountain farm, no strangers to cow pats on the carpet and nesting hens in the larder. When dark days strike, they embark on a farming experiment to cheer them all up - but raising a baby llama proves more of an adventure than expected . Reissued with a new foreword by John Lewis-Stempel, Along Came a Llama is a delightful 1970s farming classic: a charming, witty potrait of country life that will warm the hearts of animal lovers everywhere. 'Full of soul ... One departs this book a convinced llama-lover ... Certainly, Along Came a Llama has a Durrellian-recollection-of-family-life-with-unusual-pet spirit about it. But it is so much more. It is a guide to the future. To a good life.' John Lewis-Stempel ...Show more
$59.99
AUD
Category: Rural
Aimed at both the novice and experienced beekeeper, and supported by over 350 photographs and drawings, this is the ultimate guide to Australian beekeeping. Chapters cover equipment, including the Flow Hive; colony management; pests and diseases; extracting honey; the bee-friendly garden; entering honey in competitions; and native bees. The Australian Beekeeping Manual is the most comprehensive reference for both novice and experienced beekeepers in Australia. The accessible yet detailed text, supported by over 350 full-colour photographs and illustrations, covers all the key areas, including the beekeeping equipment needed, how to obtain bees, where to locate them in the garden, and the basics of colony management. There are also in-depth chapters on the lifecycle of the honey bee, extracting honey, creating a bee-friendly garden, entering honey in competitions, pests and diseases, native bees, and rearing queens. A feature of this 2nd edition is the addition of a new chapter on the Flow Hive. The result is an invaluable beekeeping resource that will be referred to time and again, and which can be taken out to the hive for use as an immediate step-by-step guide or read at leisure. ...Show more
$35.00
AUD
Category: Rural
 While most Australians live in capital cities, at one time or another we all covet the charm and slower pace of country living. But if a tree change isn't feasible for suburbanites, why not combine the best of both worlds at home? My Suburban Farm is a gorgeous guide to bringing the rustic romance, cra ft aesthetic and home-grown joy of rural life into your very own suburban nook.From the meditative delights of craft to the satisfaction of growing and cooking your veggies, this book celebrates everything handmade, home-grown and heart-warming. Ainslee Costa, creator of the popular My Suburban Farm Instagram account, shares her tips and tricks on everything from candle-making to pottery, hunting for vintage wares to keeping chickens. With My Suburban Farm you'll learn to bring the simple pleasures of the country into any space.   ...Show more
$29.99
AUD
Category: Rural | Series: First Time Ser.
First Time Beekeeping is an absolute beginners guide to keeping bees with ease and success.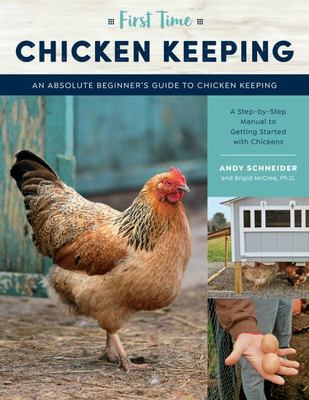 $29.99
AUD
Category: Rural | Series: First Time Ser.
Filled with down-to-earth, common-sense advice, this absolute beginner's guide for first-time chicken keepers teaches you everything you want and need to know about raising a backyard flock. Keeping backyard chickens can be fun and simple, even if you have limited backyard space. To get started keeping backyard poultry, you'll learn: The benefits of a backyard chicken flock The art of incubation Living with brooding hens Setting up coops and runs Proper poultry nutrition Understanding your chickens' health and wellness This fun, comprehensive guide is a perfect fit for your busy lifestyle Each book in the First Time series distills how-to guidance and advice from an expert on a specific topic into targeted step-by-step instruction geared toward the absolute beginner. ...Show more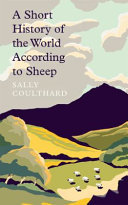 $34.99
AUD
Category: Rural
'This book deserves a place in your bookcase next to Harari's Sapiens. It's every bit as fascinating and is surely destined to be just as successful' - Julian Norton. An addictively free-ranging survey of the massive impact that the domesticated ungulates of the genus Ovis have had on human history. Fr om the plains of ancient Mesopotamia to the rolling hills of medieval England to the vast sheep farms of modern-day Australia, sheep have been central to the human story. Starting with our Neolithic ancestors' first forays into sheep-rearing nearly 10,000 years ago, these remarkable animals have fed us, clothed us, changed our diet and languages, helped us to win wars, decorated our homes, and financed the conquest of large swathes of the earth. Enormous fortunes and new, society-changing industries have been made from the fleeces of sheep, and cities shaped by shepherds' markets and meat trading. Sally Coulthard weaves the rich and fascinating story of sheep into a vivid and colourful tapestry, thickly threaded with engaging anecdotes and remarkable ovine facts, whose multiple strands reflect the deep penetration of these woolly animals into every aspect of human society and culture. ...Show more
$29.99
AUD
Category: Rural | Series: Know Your Ser.
Cows, sheep, and goats, oh my Know Your Hobby Animals is an essential guide to discovering loads of interesting facts about 172 popular breeds of chickens, pigs, goats, cows, and sheep. A complete compilation of the most popular farm animals within the Know Your... series, you'll learn all about each b reed's unique characteristics, history, breeding, personality, and more. Fun and fascinating, this engaging and collective guide will turn both the young and old into farm animal enthusiasts ...Show more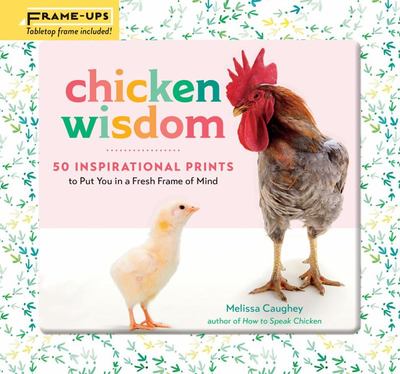 $19.99
AUD
Category: Rural
Chickens, with their natural beauty and big personalities, have a wide -- and growing -- audience appreciative of the humor and wisdom they bring to daily life. Few are better acquainted with chickens' charm than Melissa Caughey, who has introduced the appeal of owning a flock and chronicled the lives a nd personalities of her own backyard birds in the best-selling books How to Speak Chicken and A Kid's Guide to Keeping Chickens. In Chicken Wisdom Frame-Ups, pairs sage sentiments with delightful chicken photography on 50 individual cards. The clever Frame-Ups format includes a pull-out table-top frame, so you can display your favorite card for visual inspiration or easily swap it out for one that fits the mood or suits the moment. It's an all-in-one package that delivers the joy of keeping chickens -- without having to clean the coop ...Show more